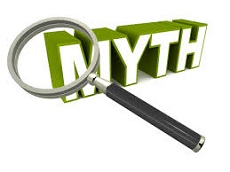 If you want to own and run a business, at some point, you'll have to take out business insurance. Not only is it a necessity from a financial perspective, more often than not it's the law. The problem is that the insurance market can be rather difficult to navigate, especially if being a CEO is new to you.
This complexity has meant that a lot of myths have crept into the business insurance market. Today, we're going to bust some of those myths so that you can get the insurance you need.
Myth #1: You Don't Need Business Insurance Because You Work From Home
Many people starting up a business believe that just because they work from home, their business is covered by their home insurance. They have this quaint idea that business cover is just cover for business content and nothing else.
Of course, business insurance isn't just about insuring your business laptop, just in case it gets damaged or stolen. It's also about protecting you from other threats you face when you start your own company. One of the risks you face is being sued by your clients for selling them a faulty product or giving them bad advice. Sometimes, lawsuits of this variety can wind up with you paying damages amounting to thousands of pounds. Obviously, you don't want to have to pay that out of pocket so practically every business these days buys public liability insurance to protect it from such claims.
Myth #2: You Don't Need Business Motor Insurance Because You've Got Personal Car Insurance
Many people, even those in the motor trade, think that their personal car insurance policy will cover them for accidents they have in a business capacity. But insurance companies think otherwise. Because the risks to drivers and property are so much higher when driving for business, insurance companies are forced to segment the market into two sections: business and personal. Business rates tend to be higher than personal rates, because people who use vehicles for business are often on the road much more than people who use their vehicles solely for leisure.
If you're in the motor trade, there are a couple of important questions you need to ask yourself about your insurance policy: What is meant by road risk policy and what is the minimum age? A road risk policy is one that allows you to drive any vehicle, including customer vehicles, as part of your trade. This policy is important for anybody who plans to run a car service centre. The minimum age is important too, as some policies don't apply to people under a certain age.
Myth #3: You Don't Need Insurance Because Your Clients Don't Come To You
Many people who run their own businesses, including tradesmen, plumbers, and electricians, believe that they don't need insurance cover if they travel to client locations. They believe that because they are on somebody else's premises, if they get hurt, it's not their fault and they are not liable. And while that is usually true, it's also true that they could be the cause of damage to another person's property.
Builders, especially, need insurance that can cover any damage that they cause at the customer location. Collapsed walls can be expensive to put right when paid for out-of-pocket. Public liability insurance should cover tradespeople in most cases where they accidentally cause damage.

Myth #4: Self-Employed People Don't Need Insurance
Sometimes in business, you'll need to take on an extra pair of hands to get the job done. Most of the time, it's not worth employing another full-time colleague, and so many tradespeople hire out one of their friends or a contractor they know for a helping hand.
But just because that person is self-employed, doesn't mean that you get to neglect insuring them. It turns out that anybody you hire, even if they are self-employed, needs to be covered by employer's liability insurance by law. In fact, even if you don't hire anybody but just happen to have a business partner, the law still considers that person to be employed by the company and in need of business insurance.
Myth #5: Business Insurance Is All The Same
Business insurance is one of the most difficult types of insurance for insurance companies to price up, simply because no two businesses are the same. As a result, business insurance is complex, sometimes involving hundreds of different factors to come up with a price.
The best thing to do is to seek professional help and find out what you need cover for and what you don't. Often you'll need a bespoke policy that fits your particular business.